CAPITAL Business Manager V8 is business software you won't outgrow


Designed for distributors, wholesalers, retailers, service providers and manufacturers, CAPITAL accounting software is lightning fast, reliable, powerful and flexible software designed to meet the needs of demanding users.

The V8 series application suite includes fully integrated ERP, CRM/BRM and WMS applications. Backed by a business with over 25 years market experience specialising in business management and financial software development.

For specific product features, use the drop-down menu above.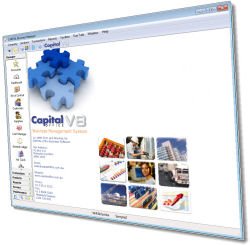 About Our Accounting & Business Management Software
Since 1985, CAPITAL accounting software has been helping organisations from small businesses to some of Australia's largest and best known companies, manage their finances more efficiently. CAPTAL V8 is the most innovative product suite yet, based on nearly 30 years of market experience and user feedback, from a development team with over 80 years of combined experience developing software solutions for industry. This level of experience shows in the products we create: CAPITAL V8 has been consistently applauded as having an excellent, easy to use user interface, and an extremely flexible design.

CAPITAL accounting software runs on all commonly installed versions of the Windows operating system and offers high-speed network operation out of the box. Transactions update your business software as they are entered, providing "live" processing. You will have the potential to determine what your inventory is valued at, how much your customers owe you, what you owe your suppliers, and the cash in your bank accounts, at the click of a few buttons.
V8 completely eliminates esoteric accounting jargon. It's designed for users who don't have an accounting background. The instruction manuals and high quality on-line help are easy to read, well organised, and fully indexed and cross-referenced. CAPITAL V8 business software provides hints and tips, and offers suggestions and advice, as you use the system, without disrupting your workflow.

The most flexible accounting software available on the market today, it will satisfy many businesses with few (if any) changes straight out of the box. Its graphical menus, forms, reports, and master screens can be fully customised to fit your unique business needs using powerful visual editing tools.


For companies that would like their accounting system to fit their business requirements like a glove, CAPITAL V8 comes equipped with its own programming language called CAPITAL Business Script. Extensive adaptations of the software's 'business rules' are possible without altering the application suite's 'source code' ensuring that you don't end up with an orphaned or bug-ridden system. CAPITAL V8 can be upgraded to the latest version at any time, without destroying any customisations made through the scripting language. CAPITAL's scripting features are so powerful that many vertical market (special purpose industry specific) applications have been developed entirely inside our standard business management software.