This tutorial describes how to use the
Archive Wizard
to remove redundant sales orders from your database.
1. Launch CAPITAL Business Manager.
2. From the main menu select Company|Administration|Maintain
3. Press the
Archive Wizard
button.
4. Decide how many years of data you wish to export next to
Activity older than
.
5. Select
I will decide which areas get archived
.
6. From the drop down list select which parts of the system you wish to archive. In this case tick
Sales Orders
.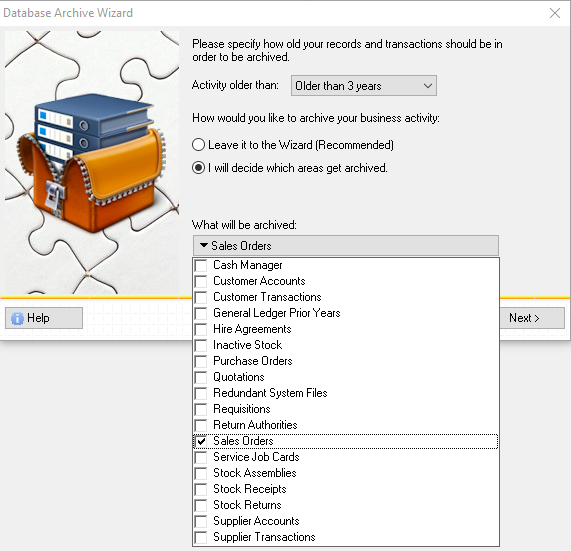 7. Press the Next > button.
8. Under
Please specify where archived data will be placed
enter a path location where you wish to store your archived data. This will typically be another location on your computer, however it is recommended that you store this data outside your main ..\CAPITAL folder so that it is not included in your regular back-up schedule.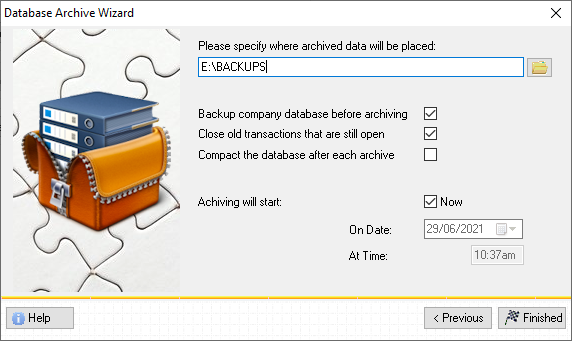 9. If you will be performing this operation during working hours with other users in the system leave
Compact the database after each archive
unticked. You can then run a Database Maintenance operation later and compact your database at a more suitable time. Otherwise, if you will be performing this operation outside normal working hours, tick this setting now. This will compact your database after the operation is completed, however users will not be able to access sales orders while compacting is in progress.
10. Finally press the
Finished
button and then press
Start Now
to begin.